Thaagam Cleaning Campaign
Happiness is when you see the placed dustbins being used by our general public and pilgrims! That's such a satisfying feel 😊 Almost all the dustbins we placed are being used, could imagine that, if these dustbins weren't placed, all these garbage would have been on the floor and in the waters!
Way to go! Let's deploy as many bins as needed and that will minimize the garbage disposal in nature rich areas.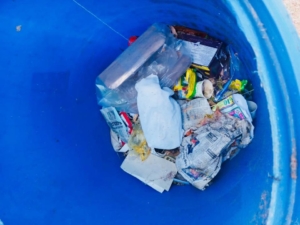 Vision : Take Udumalpet to the global heritage as a beautiful town with the credibility of clean and natural environment thereby creating a good ecosystem for 
tourism and support the local businesses.

Founding date
26-Jan-2018

நமது "தாகம்" அமைப்பின் குறிக்கோள், உடுமலையை ஒரு எழில்மிகு நகரமாக மாற்றி உலக அரங்கில் உடுமைலைக்கு ஒரு அடையாளத்தை ஏற்படுத்தி சுற்றுலாவை மேம்படுத்துவது. சுற்றுலாவை மேம்படுத்தினால் இங்கு இருக்கும் வணிகம் மற்றும் வாழ்வாதாரம் ஊக்கம் பெரும்.
Social work is the science of hope a social workers thoughts on cleaning up
Thirumoorthi hills the mountain of garbage Festering in the hills of Thirumoorthi not an eyestore also an open breeding for deadly diseases it's been more often ignored by municipal bodies and workers and the worst part is even people of neighbourhood have used to surround by waste and existing extremely unsanitary environment.
 we had 200 students from #GVGCollege #Udumalpet participate and clean our #ThirumoorthyDam as part of our #Thaagam #TeamThaagamFantastic energies this young minds have! The staffs were very supportive and the students showcased a good discipline throughout the event! Feeling very proud of our younger generation. Way to go!
Many thanks to our thaagam team volunteers who took time out of their busy schedules and came all the way to coordinate the event
GVG college, Udumalpet joined hands with Team Thaagam for the #CleanThirumoorthyDam event. What an energy this younger generation has! We strongly believe that the change can be brought in to action only when we have things set right at the roots. The roots are our younger generation who should realise the necessity of preserving nature and it's serenity! Today the entire crew proved it right with their energies. A special kudos to their energy levels and the GVG management and staffs who supported to make this event happen!
"we cannot hold a torch to light others path we can just be a footprint " when a few like minded friends discussed with few folks almost everyone volunteered to join their crusade and this is how the team Thaagam was formed with a team of 25 members they kickstarted their cleaning drive then now it's expan to a lot now " they never worried about the numbers " they didn't ask for money sometimes they used to spent their for safe cleaning equipment's further more Sponsors helped out them its been over 30 weeks now looking forward for many to go let's join hands together to make udumalai beautiful. "the strong people stand for them self the strongest stand up for others "
Every Week  #Tirumoorthydam #Cleandrive Happiness is seeing #thaagamvolunteers come together on cold/winter saturday morning without any immediate return ! What do they expect in return for cleaning the place ? Not money, Not fame, all they want to see is the cleanest place and love to drink the cleanest water . What can u do from wherever you are to help them ? Educate people not to litter ! Help us to get more volunteers every week ! Let us build beautiful udumalai together !
We are grateful to thank the good souls for sponsoring the dustbins to be placed in the #ThirumoorthyDam
We have some more sponsors for dustbins to keep our mother nature clean and neat. We all unite together for one good cause "#CleanThirumoorthyHills". The list of sponsors who sponsored the bins this week are,
1) Mr. Shivaram (vanathukkul Tiruppur), Classic Polo – 10 barrels each 50litres.
2) Mr. Kannan, Sulochana Mills – 10 barrels each 200 litres.
3) Mr. Nagaraj, SM Travels – for providing free transport to ship the barrels to the workshop.
Once again #Thaagam values every single good heart who works towards restoring nature and keeping the environment clean! A special thanks to the sponsors which means a lot!
– The Team
Thaagam
Ever wondered how #Thirumoorthyhills will look like when it's clean? This week is an exclusive capture of the serenity of our clean and neat Thirumoorthy hills.
Here is our dream come true moment of 22 week dedication on restoring #ThirumoorthyHills Constant awareness campaign and cleaning, results in the restoration of mother nature!
Feeling extremely overwhelmed of the output. Let's not stop here and keep educating people on waste management.
"Wow" moment!!!
Firstly, a sky-high thanks to Nandha R, Raghu Nandhan Raju, Pavithra RaghuNandhan and #NandhaMotors & team for the #PaintWork #DrillWorkof the dustbins we collected in the last couple of weeks. I just had a casual talk about #Thaagam's progress on dustbins which we accumulated in the past weeks and planned to paint and deploy it. With no second thought, Raghu came forward to say that he will pick the drums, paint, drill and ship it back to the #ThirumoorthyDam . Also, he sponsored 2 additional drums. Today we deployed a total of 17 drums in the dam and temple area!
As of now, we have deployed a total of 32 dustbins so far! Let's target to get as many as 50-60 more bins!
The list of dustbin sponsors are,
1) Suguna Poultry Pvt Ltd, Udumalai
2) Sri Krishna Oil Store, Dharapuram Road, Udumalai
3) Thompson Pvt Ltd, Kottamangalam, Udumalai
4) Nandha Motors, Udumalai
A special mention and applause to on the field Thaagam team members, the truck driver who sponsored the back & forth trip free and the below mentioned two gentlemen from Nandha Motors who coordinated the pick and drop ship to of drums.
1) Krishna Gp
2) Vignesh Babu
#Team #Thaagam is fully committed in restoring the nature of our #ThirumoorthyHills
Udumalai is our Identity
ThirumoorthyHills is our Heritage!
-The Team
Thaagam
#Udumalai is our identity!
#ThirumoorthyHills is our pride!